---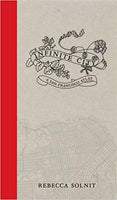 by Rebecca Solnit
University of California Press
11/29/2019, paperback
SKU: 9780520262508
What makes a place? Infinite City, Rebecca Solnit's brilliant reinvention of the traditional atlas, searches out the answer by examining the many layers of meaning in one place, the San Francisco Bay Area. Aided by artists, writers, cartographers, and twenty-two gorgeous color maps, each of which illuminates the city and its surroundings as experienced by different inhabitants, Solnit takes us on a tour that will forever change the way we think about place. She explores the area thematically--connecting, for example, Eadweard Muybridge's foundation of motion-picture technology with Alfred Hitchcock's filming of Vertigo. Across an urban grid of just seven by seven miles, she finds seemingly unlimited landmarks and treasures--butterfly habitats, queer sites, murders, World War II shipyards, blues clubs, Zen Buddhist centers. She roams the political terrain, both progressive and conservative, and details the cultural geographies of the Mission District, the culture wars of the Fillmore, the South of Market world being devoured by redevelopment, and much, much more. Breathtakingly original, this atlas of the imagination invites us to search out the layers of San Francisco that carry meaning for us--or to discover our own infinite city, be it Cleveland, Toulouse, or Shanghai.
Cartographers: Ben Pease and Shizue Seigel
Designer: Lia Tjandra
Artists: Sandow Birk, Mona Caron, Jaime Cortez, Hugh D'Andrade, Robert Dawson, Paz de la Calzada, Jim Herrington, Ira Nowinski, Alison Pebworth, Michael Rauner, Gent Sturgeon, Sunaura Taylor
Writers and researchers: Summer Brenner, Adriana Camarena, Chris Carlsson, Lisa Conrad, Guillermo Gómez-Peña, Joshua Jelly-Schapiro, Paul La Farge, Genine Lentine, Stella Lochman, Aaron Shurin, Heather Smith, Richard Walker

Additional cartography: Darin Jensen; Robin Grossinger and Ruth Askevold, San Francisco Estuary Institute
Reviews:
"At last a field book with the sense of San Francisco--the non sense, the real sense, the mysteries of the microclimates, gays and butterflies, gangs, boulevards and mysterious alleys. All here!"--Michael McClure

"Downright near infinite, at any rate, the good fortune of a city blessed with such antic chroniclers as Rebecca Solnit, First Citizen of the Imagination, and her entire splendid crew. There's one map missing, though, from this marvelous little volume: the MRI of any reader lucky enough to wander into its myriad graven precincts--synapses firing, dendrites scintillating away, a whole mad happy carnival of fresh neuronal associations."--Lawrence Weschler, author of Everything that Rises: A Book of Convergences

"Solnit's writing is born of intense reverie and deep reading, passionate inquiry and political defiance; she is a lyric questor for the texture of everyday life, and she attends to places and to their variety and particularity with an exhilarating form of attention that illuminates and transforms her subjects. Infinite City is a marvellous atlas, a new approach to history-making and storytelling; it's also a highly original praise song to many San Franciscos, a multi-layered and polyphonic testament, alert to the play of detail and to the grand design, to the shadows of memory that fall, the restless shifts in the urban scene and the vital energy of overlooked subjectivities."--Marina Warner
Author:
Rebecca Solnit is the best-selling author of many books, including River of Shadows, for which she won the National Book Critics Circle Award, A Paradise Built in Hell, Savage Dreams (UC Press), and Storming the Gates of Paradise (UC Press).