---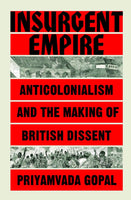 by Priyamvada Gopal
Verso
5/19/2020, paperback
SKU: 9781784784133
How rebellious colonies changed British attitudes to empire
Insurgent Empire shows how Britain's enslaved and colonial subjects were active agents in their own liberation. What is more, they shaped British ideas of freedom and emancipation back in the United Kingdom. Priyamvada Gopal examines a century of dissent on the question of empire and shows how British critics of empire were influenced by rebellions and resistance in the colonies, from the West Indies and East Africa to Egypt and India. In addition, a pivotal role in fomenting resistance was played by anticolonial campaigners based in London, right at the heart of empire.
Much has been written on how colonized peoples took up British and European ideas and turned them against empire when making claims to freedom and self-determination. Insurgent Empire sets the record straight in demonstrating that these people were much more than victims of imperialism or, subsequently, the passive beneficiaries of an enlightened British conscience--they were insurgents whose legacies shaped and benefited the nation that once oppressed them. 
Reviews:
"A superb study of anticolonial resistance in the British Empire from the 1857 Indian uprising to the Kenyan Mau Mau revolt a century later ... As it weaves together these intellectual and geographical strands, this wonderful book brings back to life a glorious cast of characters."  --Sudhir Hazareesingh, Times Literary Supplement ("Books of the Year, 2019")
"[ Insurgent Empire] sets out to celebrate the political agency of colonised peoples, its importance in bringing an end to empire and the impact it had on metropolitan liberal and radical thinking."  --Matthew Reisz, Times Higher Education
"Priyamvada Gopal is an astonishing writer and thinker, one who is fearless in how she uses history to explain where we are now. Her work is essential to showing how empire and colonialism pervades every nook and cranny of the British establishment today and why we should all continue to speak truth to power, like she does every damn day."  --Nikesh Shukla, editor of The Good Immigrant
"This impressive book challenges the assumptions that underpin many academic and journalistic understandings of the British empire; it restores the idea of resistance and dissent, placing anti-colonial struggle from the 1857 uprising in India, to Mau Mau in Kenya, at the heart of historical change. It argues convincingly that, when it did occur, British anti-colonialism in the metropole was forged through exposure to imperial insurgency. By doing so, it tackles the whole premise of British liberal imperial progress and benevolence which remains so pervasive to this day. It's also a hopeful book, indicating ways out of mythological cul-de-sacs. Erudite, but highly readable, this book will be definitely be on my reading lists for students."  --Yasmin Khan, Associate Professor of History at Kellogg College, Oxford
About the Author:
Priyamvada Gopal is University Reader in Anglophone and Related Literatures in the Faculty of English and Fellow, Churchill College, University of Cambridge. She is the author of Literary Radicalism in India: Gender, Nation and the Transition to Independence and The Indian English Novel: Nation, History and Narration.