---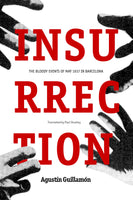 by Agustín Guillamón, Translated by Paul Sharkey
AK Press
12/1/2020, paperback
SKU: 9781849353601

May 1937 saw the defeat of one of the most advanced revolutions in modern history. In Insurrection, Agustín Guillamón explains how and why it happened.
One of the foremost historians of the Spanish Civil War writing today, Guillamón is known for his skill at unearthing new information, which he gathers from both archives and interviews. In this, his most recent and newly translated book, he uses that information to shed light on some of the most vexing and previously unanswered questions about the conflict, especially on the way that Stalinist and Republican forces conspired through assassination, intrigue and violence, to suppress the uprising. This is a story that George Orwel recounted, but failed to fully understand, in Homage to Catalonia.
About the Contributors:
Agustín Guillamón is an independent historian, editor of Balance, a magazine dedicated to new research on the Spanish Revolution, and the author of The Friends of Durruti Group, 1937-1939 and Ready for Revolution.
Paul Sharkey has, as an accomplished translator, made a vast body of anarchist texts available to English-language readers. His numerous translations include the works of Nestor Makhno, Osvaldo Bayer, Errico Malatesta, Daniel Guérin, José Peirats, and Antonio Téllez.