---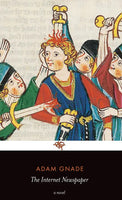 by Adam Gnade
Three One G/Bread & Roses
10/04/2022, paperback
SKU: 9781939899453
Adam Gnade's pocketsize novel The Internet Newspaper is about working at the online version of a daily newspaper during the weird, clumsy, well-funded early days of the internet.
Set in Southern California in the year 2000, Gnade's book shows an America that does not exist anymore—an awkward, wild, innocent place that has since given way to fury and regression. Here we bear witness to HTML coding and late-night party crime, hard drugs and the birth of the "cats on the internet" phenomenon.
The Internet Newspaper is lyrical, dark, philosophical, and true like all good fiction is true.
Recommended if you like: Conversations with Friends by Sally Rooney, Roberto Bolaño's The Savage Detectives, Sex and Rage by Eve Babitz, Bright Eyes, the Cure, Mexican food, committing crime, being a fucking bad-ass, and Patti Smith's Just Kids.
Reviews:
"Lucid, life-affirming prose from an empathetic master." -- Yannis Philippakis of the band Foals

"Adam Gnade is a writer who can capture what it feels like to feel everything." -- Dana Margolin of the band Porridge Radio

"In all of his work Gnade achieves a wide range of effects—lyricism, poignant description, philosophical depth, humor, characterization—in a singular style that's born from many years of focused, intense dedication to his craft." -- Bart Schaneman, author of The Silence is the Noise
About the Author:
Adam Gnade
is a musician and author. His books include 
Simple Steps to a Life Less Shitty
 and 
The Do-It-Yourself Guide to Fighting the Big Motherfuckin' Sad
and
After Tonight, Everything Will Be Different.