---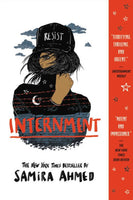 by Samira Ahmed
Little, Brown Books for Young Readers

3/17/2020, paperback

SKU: 9780316522700
Rebellions are built on hope.
Set in a horrifying near-future United States, seventeen-year-old Layla Amin and her parents are forced into an internment camp for Muslim American citizens.
With the help of newly made friends also trapped within the internment camp, her boyfriend on the outside, and an unexpected alliance, Layla begins a journey to fight for freedom, leading a revolution against the camp's Director and his guards.
Heart-racing and emotional, Internment challenges readers to fight complicit silence that exists in our society today.
Target age: 14 to 17
Reviews:
"[Gives] understanding [to] the extreme dynamics of race in America from a Muslim perspective." -- PBS News Hour
"A riveting, ferocious read that will keep you up at night, a story about complicity and cowardice, strength, vulnerability, and hope."-- Eugenia Vela, BookPeople, Austin, TX
"...Sensitive and stirring. For all collections."-- School Library Journal, starred review
"...a poignant, necessary story that paints a very real, very frank picture of hatred and ignorance, while also giving readers and marginalized individuals hope."-- Booklist, starred review
"Thank you to Samira Ahmed for giving us Layla, the Strong and Independent Female Character that we are always promised, but never actually get."-- Emily Knosher, Read It Again Bookstore, Monticello, NY
About the Author:
Samira Ahmed is the New York Times bestselling author of Love, Hate, & Other Filters and Internment. She was born in Bombay, India, and has lived in New York, Chicago, and Kauai, where she spent a year searching for the perfect mango. She currently resides in the Midwest.