---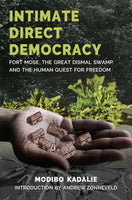 by Modibo Kadalie
On Our Own Authority
3/15/2022, paperback
SKU: 9798985668209
From the sixteenth to the nineteenth centuries, many African people who were enslaved in North America emancipated themselves and fled into vast swamplands and across colonial borders, beyond the reach of oppressive settler-colonialism and the institution of slavery. On the peripheries of empire, these freedom-seeking maroons established their own autonomous, ethnically diverse, and intimately democratic communities of resistance.
In this new volume, Modibo Kadalie offers a critical reexamination of the history and historiography surrounding two sites of African maroonage: The Great Dismal Swamp in Virginia and North Carolina; and Fort Mose in Florida.
In these communities of refuge, deep-rooted directly democratic social movements emanating from West Africa converged with those of indigenous North Americans. Kadalie's study of these sites offers a new lens of intimate direct democracy, through which readers are invited to re-examine their notions of human social history and the true meaning of democracy.
With an Introduction by Andrew Zonneveld.