---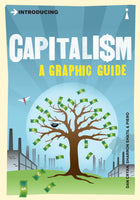 by Dan Cryan, Sharron Shatil, Contribution from Piero
Icon Books
6/15/2005
SKU: 9781848310551
Despite the credit crunch, Capitalism now dominates the globe and influences every aspect of our world from laws, wars and government to interpersonal relationships. Tracing capitalism from its beginning to the present day, Dan Cryan and Sharron Shatil, alongside Piero's brilliant graphics, look at its practical and theoretical impact. They cover the major economic, social and political developments that shaped the world we live in, and examine the views both for and against, from writers such as Adorno and Marx. Capitalism has influenced everything in the 21st-century world. This is the essential guide.
About the Authors:
Dan Cryan has degrees in Philosophy from UCL and now works as a market analyst in London.
Sharron Shatil is a Philosophy lecturer at the Open University in Israel.
Piero is an illustrator, artist and graphic designer whose work has twice been included in the Royal College of Art exhibition in London. Previous Introducing titles include Aesthetics, Shakespeare and Nietzsche.