---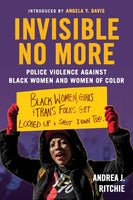 by Andrea Ritchie
Beacon Press
8/1/2017, paperback
SKU: 9780807088982
Invisible No More is a timely examination of how Black women, Indigenous women, and women of color experience racial profiling, police brutality, and immigration enforcement. Placing stories of individual women--such as Sandra Bland, Rekia Boyd, Dajerria Becton, Monica Jones, and Mya Hall--in the broader context of the twin epidemics of police violence and mass incarceration, it documents the evolution of movements centering women's experiences of policing and demands a radical rethinking of our visions of safety--and the means we devote to achieving it.
With a forward by Angela Davis.
About the Author:
Andrea J. Ritchie is a Black lesbian immigrant and police-misconduct attorney, and a 2014 Senior Soros Justice Fellow, with more than two decades of experience advocating against police violence and the criminalization of women and LGBTQ people of color. She is currently Researcher-in-Residence on Race, Gender, Sexuality, and Criminalization at the Barnard Center for Research on Women and the coauthor of Say Her Name: Resisting Police Brutality Against Black Women  and Queer (In)Justice: The Criminalization of LGBT People in the United States. She lives in Brooklyn, New York, and Chicago.
Reviews:
"This compelling, essential, and deeply informed book exposes the impact of policing, criminalization, and violence on the lives of Black women and women of color in the United States. Ritchie is at once eloquent and forensic in centering the experience of Black women of all genders and colors to build an urgent argument to reconstitute the policing function itself."  -- Urvashi Vaid, attorney and author of Irresistible Revolution: Confronting Race, Class, and the Assumptions of LGBT Politics
"Reading this book is hard but critically important--and essential for our political education. The stories and timeline are both well researched and needed, and they taught me things I wasn't aware of and am grateful to learn. If Andrea Ritchie hadn't documented these histories, I'm afraid no one else would have." -- Coya White-Hat Artichoker (Lakota), founding member of the First Nations Two Spirit Collective