---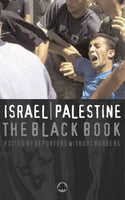 by Reporters without Borders
Pluto Press
2002, paperback
SKU: 9780745321417
In times of war, human rights violations often go unreported. In Israel and the Occupied Territories, where ongoing conflict has killed many thousands, abuses of human rights are commonplace, but these stories seldom reach the outside world.
This book readdresses that imbalance: taken from documents produced by international human rights groups - and assembled by the international journalists' organization Reporters sans Frontieres - it provides an authoritative account of human rights violations that have taken place on both sides of the conflict since the start of the second Intifada in September 2000.
Unlike conventional reportage, these accounts are careful not to over dramatize the story. Instead, they offer as objective an account as possible of the degradations that both Israelis and Palestinians have suffered.
The reports are taken from groups including Amnesty International, the Palestinian Center for Human Rights, the Palestinian Human Rights Monitoring Group, Human Rights Watch, the Public Committee Against Torture in Israel, B'Tselem and Reporters sans Frontieres.
Bringing these abuses to public attention for the first time, this book is both an important historical document, and a sobering account of what is going on in Israel and Palestine, that will be of interest to politicians, NGOs, students and activists everywhere.