---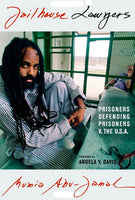 by Mumia Abu-Jamal
City Lights Books
2009
SKU: 9780872864696
In Jailhouse Lawyers, award-winning journalist and death-row inmate Mumia Abu-Jamal presents the stories and reflections of fellow prisoners-turned-advocates who have learned to use the court system to represent other prisoners-many uneducated or illiterate-and in some cases, to win their freedom.
In Mumia's words, "This is the story of law learned, not in the ivory towers of multi-billion-dollar endowed universities [but] in the bowels of the slave-ship, in the hidden, dank dungeons of America...It is law learned in a stew of bitterness, under the constant threat of violence, in places where millions of people live, but millions of others wish to ignore or forget. It is law written with stubs of pencils, or with four-inch-long rubberized flex-pens, with grit, glimmerings of brilliance, and with clear knowledge that retaliation is right outside the cell door. It is a different perspective on the law, written from the bottom, with a faint hope that a right may be wronged, an injustice redressed. It is Hard Law."
Mumia Abu-Jamal is author of many books, including Live From Death Row, Death Blossoms, All Things Censored, and We Want Freedom. He was living on death row in a Pennsylvania prison from 1982 until December of 2011, when his sentence was commuted to life without parole.
Listen to Mumia Abu-Jamal's latest dispatches from death row on Prison Radio.