---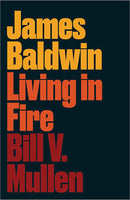 by Bill V. Mullen
Pluto Press
9/20/2023, hardcover
SKU: 9780745338545
Bill Mullen celebrates the personal and political life of the great American writer who refused to shy away from controversy and hate and created some of the most important literary work of his time, including the novels Go Tell it to the Mountain, If Beale Street Could talk, Another Country, and Just Above My Head. It is essential reading for anyone who wants to truly understand this towering literary and political figure and everyone who understand that imperialism and racism are as dangerous today as in Baldwin's time.
As a lifelong radical, anti-imperialist, black queer advocate, feminist and pro-Palestinian, the life and writing of James Baldwin (1924-1987) has been an inspiration to generations and his words continue to resonate through our culture at large. Mullen explores how Baldwin's life and work channel the long history of the African American. Fighting towards what he hoped would be a post-racial society, Baldwin's philosophy was tragically ahead of its time.
Reviews:
"A fresh, incisive, and uplifting biography" -- Kirkus
"Finally, Bill V. Mullen presents the James Baldwin we've been waiting for: the revolutionary, fierce internationalist, queer theorist, anti-imperialist, anti-Zionist, incisive dialectician, and perhaps the most dangerous thinker of the 20th century. If you want to know the real Baldwin, the uncompromising critic and visionary realist possessed of Fanonian optimism, Gramscian pessimism, and Lordean love, this is the book to read, the book we desperately need." -- Robin D. G. Kelley, author of Freedom Dreams: The Black Radical Imagination
About the Author:
Bill V. Mullen is Professor of American Studies at Purdue University. He is co-editor with Ashley Dawson of Against Apartheid: The Case for Boycotting Israeli Universities. He is the author of W.E.B. Du Bois: Revolutionary Across the Color Line.