---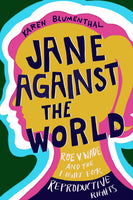 by Karen Blumenthal
Roaring Brook Press
2/25/2020, hardcover
SKU: 9781626721654
From award-winning author Karen Blumenthal, Jane Against the World takes a deep and passionate look at the riveting history of the fight for reproductive rights in the United States--and how Roe v. Wade was only the beginning.
As the decision of Roe v. Wade continues to be challenged, the fight for reproductive rights is becoming more and more urgent--making Blumenthal's eye-opening work even more crucial. Tracing the path to the landmark decision in Roe v. Wade and the continuing battle for women's rights, Blumenthal examines, in a straightforward tone, the root causes of the current debate around abortion and repercussions that have affected generations of American women.
This revealing book is the perfect tool to facilitate difficult discussions and awareness of a topic that is rarely touched on in school but affects each and every young person. It's also perfect for fans of Steve Sheinkin and Deborah Heiligman.
This journalistic look at the history of abortion and the landmark case of Roe v. Wade is an important and necessary book.
Target age: 12 to 17
Reviews:
An account of the tumultuous struggle for abortion rights in the United States...Gripping reading; necessary for every library serving teens.--Kirkus Reviews
Jane Against the World reads, at times, like a legal thriller. I kept reminding myself, "Wait, I know how this ends....Blumenthal has done her job well: presenting the history, and leaving readers to wrestle with what the future may hold for families facing unwanted pregnancies.--The New York Times
About the Author:
Karen Blumenthal (1959-2020) was a financial journalist and editor whose career included five years with The Dallas Morning News and twenty-five with The Wall Street Journal--where her work helped earn the paper a Pulitzer Prize for its breaking news coverage of the September 11, 2001 attacks--before becoming an award-winning children's non-fiction book writer.