---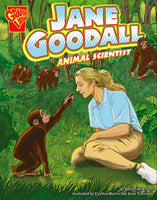 by Katherine Krohn, Illustrated by Cynthia Martin & Anne Timmons
Capstone Press
2006, paperback
SKU: 9780736868853
Tells the life story of animal scientist, Jane Goodall. Written in graphic-novel format.
Reviews:
"How can a book pull in reluctant readers who might otherwise never be exposed to the work of this world-renowned primatologist? Perhaps this "graphic novel," written for upper elementary and middle school readers, will do the job. Jane Goodall: Animal Scientist describes her life from her childhood years—curious about how eggs get out of the hen—through her young adult years and her single-minded efforts to visit Africa. It describes her years of studying chimpanzees that she came to know as individuals and her later years and interest in involving young people in conservation activities. Brief narrative text in boxes (at the sixth-grade reading level) and conversation- or thought-"bubbles" (at the fourth-grade reading level) tell the tale. The full-page color illustrations show much of the story in comic book style. To my eye, the illustrations only vaguely resemble the characters (Jane, her mother, anthropologist Louis Leakey, and her first husband, National Geographic photographer Hugo van Lawick), but this will probably not put off readers. Students will find the brief glossary and simple index useful for writing reports. Suggestions for further reading and a code to access related Internet sites through "FactHound" encourage research (and more reading!). Teachers will also want to direct readers who get hooked on this story to read Goodall's own autobiography for children. Perhaps Jane Goodall: Animal Scientist, along with her own account for children, will inspire the next generation of animal scientists and conservationists." - NSTA Recommends
Part of our Graphic Histories collection.