---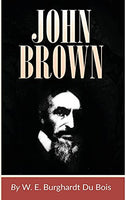 by W. E. B. Du Bois
International Publishers
8/14/2021, paperback

SKU: 9780717803750
With scholarship and passion, Du Bois understands and explains John Brown. In this book, first published in 1909 and then long out of print, Dr. Du Bois rose to a passionate and fully documented defense of John Brown against all his detractors.

Three years and 29 days prior to Lincoln's Emancipation Proclamation, a man branded "zealot", "fanatic" and "traitor" was hanged. John Brown and his band of 21 followers seized the armory at Harper's Ferry to obtain weapons, arm the enslaved, and through mass revolt, end slavery.
Here is a profound picture of John Brown the man, father, religionist, and irrepressible crusader against the sacrilege of slavery. The author conveys to the reader the wrath and turbulence of John Brown yet depicts his care and deliberation in the anti-slavery battle, from Kansas to his final assault. With keen perception, there is revealed both the unity and conflict of John Brown's relation with Frederick Douglass, William Lloyd Garrison and other Abolitionists. The book stands today as a classic work of history and literature.
For this edition, Dr. Du Bois supplied a new preface, some additions to the text, and a few pages of new conclusions. Lithographed from the original edition, the old text has not been altered, any new material appears in italics.