---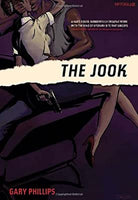 by Gary Phillips
PM Press
2/1/2009, paperback
SKU: 9781604860405
Zelmont Raines has slid a long way since first gaining his ability to jook--to out maneuver his opponents on the field--which made him a Super Bowl-winning wide receiver and earned him lucrative endorsement deals, not to mention more than his share of female attention. Because he hasn't always been good at saying no, however, a series of missteps involving drugs, a paternity suit or two, legal entanglements, shaky investments, and chronic injuries have virtually sidelined his career. Now that Los Angeles has a new pro franchise, the Barons, Zelmont has one last chance at the big time he dearly misses. Just as it seems he might be getting back in the flow, he's enraptured by Wilma Wells, the leggy and brainy lawyer for the team who has a ruthless game plan all her own--and this time it's Zelmont who might get jooked.
Reviews:
"Phillips, author of the acclaimed Ivan Monk series, takes elements of Jim Thompson (the ending), black-exploitation flicks (the profanity-fueled dialogue), and Penthouse magazine (the sex is anatomically correct) to create an over-the-top violent caper in which there is no honor, no respect, no love, and plenty of money. Anyone who liked George Pelecanos' King Suckerman is going to love this even-grittier take on many of the same themes." -- Wes Lukowsky, Booklist
"Gary Phillips writes tough and gritty parables about life and death on the mean streets--a place where sometimes just surviving is a noble enough cause. His is a voice that should be heard and celebrated. It rings true once again in The Jook, a story where all of Phillips' talents are on display." -- Michael Connelly, author, Harry Bosch series
About the Author:
Gary Phillips is a community activist and a writer who has contributed to Los Angeles Times Magazine, the San Francisco Examiner, and the Washington Post. He is the author of the Ivan Monk and Martha Chainey series and the novels Bangers and The Perpetrators. He Lives in Los Angeles.