---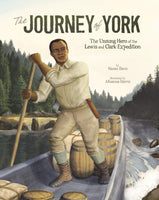 by David Hassan, illustrated by Alleanna Harris
Capstone Press
08/15/2021, paperback
SKU: 9781543512861
Thomas Jefferson's Corps of Discovery included Captains Lewis and Clark and a crew of 28 men to chart a route from St. Louis to the Pacific Ocean. All the crew but one volunteered for the mission. York, the enslaved man taken on the journey, did not choose to go. Slaves did not have choices. York's contributions to the expedition, however, were invaluable. The captains came to rely on York's judgement, determination, and peacemaking role with the American Indian nations they encountered. But as York's independence and status rose on the journey, the question remained what status he would carry once the expedition was over. This is his story.
Target age: 8 to 11
Reviews:
"Children studying Lewis and Clark probably learn about Sacawajea, but is York ever mentioned? I had certainly never heard of him. When President Jefferson called for an expedition and Captains Lewis and Clark recruited able-bodied men as volunteers, one man went along without volunteering; York. Captain Clark's slave. York was never given a choice... Although in picture book format, I'd give this to older elementary students, especially those studying Lewis and Clark, to give them a different and wider perspective on the event. It's too long for a casual read-aloud, but a teacher could read sections aloud in their classroom with, I think, great results. It's well-written and the author thoughtfully discusses the lack of sources. Recommended." -- Jean Little Library
About the Contributors:
Hasan Davis is an active speaker, trainer, and advocate for justice, education, and diversity initiatives on the local, state, and national levels. His active involvement in the Chautauqua education movement has garnered invitations to present his work at corporations, colleges, historical organizations, schools, prisons, and churches. Based in Kentucky, Hasan strives to build living and learning communities where all people have the opportunity to succeed.
Alleanna Harris earned a BFA in Animation from the University of the Arts in Philadelphia and graduated with Honors. She is inspired by the beauty in everyday things and seeks to create images that are immersive, rich in color, and have a sense of warmth. When she's not illustrating, you can find Alleanna singing and dancing to her favorite music playlists, sharing her art on social media, researching history topics, and hanging with friends and family. She lives in New Jersey.