---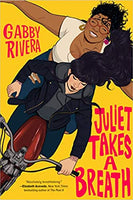 by Gabby Rivera
Dial Books
5/11/2021, paperback
SKU: 9780593108192
Juliet Milagros Palante is a self-proclaimed closeted Puerto Rican baby dyke from the Bronx. Only, she's not so closeted anymore. Not after coming out to her family the night before flying to Portland, Oregon, to intern with her favorite feminist writer--what's sure to be a life-changing experience. And when Juliet's coming out crashes and burns, she's not sure her mom will ever speak to her again.
But Juliet has a plan--sort of. Her internship with legendary author Harlowe Brisbane, the ultimate authority on feminism, women's bodies, and other gay-sounding stuff, is sure to help her figure out this whole Puerto Rican lesbian thing. Except Harlowe's white. And not from the Bronx. And she definitely doesn't have all the answers . . .
In a summer bursting with queer brown dance parties, a sexy fling with a motorcycling librarian, and intense explorations of race and identity, Juliet learns what it means to come out--to the world, to her family, to herself.
Reviews:
"Dazzling, funny as hell, poignant, all the things."--Roxane Gay, New York Times bestselling author of Hunger: A Memoir of (My) Body
Juliet Takes a Breath is absolutely breathtaking. This is the homegirl I've always wanted to see in literature, made flesh by Rivera's pen.--Elizabeth Acevedo, National Book Award winner and New York Times bestselling author of The Poet X
About the Author:
Gabby Rivera is a Bronx-born queer Puerto Rican babe on a mission to create the wildest, most fun stories ever. She's the first Latina to write for Marvel comics, penning the solo series AMERICA about America Chavez, a portal-punching queer Latina powerhouse. In 2017, Gabby was named one of the top comic creators by the SyFy network, and one of NBC's #Pride30 Innovators. Gabby now makes magic on both coasts, currently residing in California. She writes for all the sweet baby queers and her mom, and hosts Joy Revolution, the podcast that brings together her favorite revolutionary humans to honor joy in a chaotic world.