---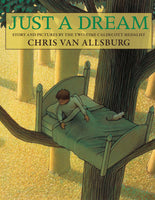 written and illustrated by Chris Van Allsburg
Houghton Mifflin
03/07/2011, paperback
SKU: 9780547520261
Walter is a litterbug who does not appreciate the beauty of nature, or understand his role in keeping the planet healthy... until a fantastic journey shows him the tragic fate that could befall Earth if humans like him are not more careful. Are Walter's actions really helping his planet along the road to destruction, or is it all just a dream?
Chris Van Allsburg's classic story of environmental responsibility is now available in this special paperback edition with french flaps.
Reviews:
"Van Allsburg reaches a new pinnacle of excellence in both illustration and storytelling... His fable builds to an urgent plea for action as it sends a rousing message of hope." -- Publishers Weekly
About the Author:

Chris Van Allsburg is the winner of two Caldecott Medals, for Jumanji and The Polar Express, as well as the recipient of a Caldecott Honor Book for The Garden of Abdul Gasazi. The author and illustrator of numerous picture books for children, he has also been awarded the Regina Medal for lifetime achievement in children's literature. In 1982, Jumanji was nominated for a National Book Award and in 1996, it was made into a popular feature film. Chris Van Allsburg is a former instructor at the Rhode Island School of Design.