---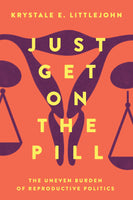 by Krystale W. Littlejohn
University of California Press
8/31/2021. paperback
SKU: 9780520307452
Understanding the social history and urgent social implications of gendered compulsory birth control, an unbalanced and unjust approach to pregnancy prevention.
The average person concerned about becoming pregnant spends approximately thirty years trying to prevent conception. People largely do so alone using prescription birth control, a situation often taken for granted in the United States as natural and beneficial. In Just Get On the Pill, a keenly researched and incisive examination, Krystale Littlejohn investigates how birth control becomes a fundamentally unbalanced and gendered responsibility. She uncovers how parents, peers, partners, and providers draw on narratives of male and female birth control methods to socialize cisgender women into sex and ultimately into shouldering the burden for preventing pregnancy.
Littlejohn draws on extensive interviews to document this gendered compulsory birth control--a phenomenon in which people who give birth are held accountable for preventing and resolving pregnancies in gender-constrained ways. She shows how this gendered approach encroaches on reproductive autonomy and poses obstacles for preventing disease. While diverse cisgender women are the focus, Littlejohn shows that they are not the only ones harmed by this dynamic. Indeed, gendered approaches to birth control also negatively impact trans, intersex, and gender nonconforming people in overlooked ways. In tracing the divisive politics of pregnancy prevention, Littlejohn demonstrates that the gendered division of labor in birth control is not natural. It is unjust.
Reviews:
"Littlejohn makes a unique and powerful contribution. Just Get on the Pill offers a dynamic, compelling analysis that challenges mainstream thinking about contraceptive responsibility, with specific, practical, and achievable recommendations for social justice change."--Laury Oaks, Professor and Chair, Department of Feminist Studies, University of California, Santa Barbara
"In this beautifully written, highly accessible book, Littlejohn--in the best tradition of sociological research--effectively demonstrates the social forces at play in individuals' use of contraception. In the best tradition of feminist scholarship, she brilliantly reveals the gender inequality contained in society's dominant assumptions about appropriate contraceptive behavior. In the best tradition of reproductive justice scholarship, she points the way forward for better understandings and practices."--Carole Joffe, coauthor of Obstacle Course: The Everyday Struggle to Get an Abortion in America
About the Author:
Krystale E. Littlejohn is Assistant Professor of Sociology at the University of Oregon. Her work has been published in Demography, Gender & Society, and Journal of Health and Social Behavior, among other outlets.