---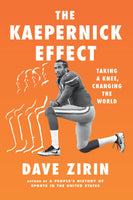 by Dave Zirin
New Press
09/13/2022, paperback
SKU: 9781620977859
Hailed by Publishers Weekly in a starred review as "an enthralling look at the impact of peaceful protest by sports figures at the high school, college, and professional levels," The Kaepernick Effect explores the story of how quarterback Colin Kaepernick's simple act of "taking a knee" spread like wildfire throughout American society, becoming the preeminent public symbol of resistance to America's persistent racial inequality.
In this powerful book, critically acclaimed sports journalist and author Dave Zirin chronicles "the Kaepernick effect" for the first time, through "a riveting collection of first-person stories" (The Nation) from high school athletes and coaches, college stars and high-powered athletic directors, and professional athletes across many different sports--from Megan Rapinoe to Michael Bennett. In each case, he uncovers the fascinating explanations and motivations behind what became a mass political movement in sports.
"Necessary reading for all, especially those who want to make a difference in promoting social justice, equity, and inclusion, and end police brutality" (Library Journal, starred review), The Kaepernick Effect is for anyone seeking to get involved in the new movement for racial justice in America: "Take a knee, everyone, and start a revolution" (Kirkus Reviews).

Reviews:
"The Kaepernick Effect reveals that Colin Kaepernick's story is bigger than one athlete. With profiles of courage that leap off the page, Zirin uncovers a whole national movement of citizen-athletes fighting for racial justice." --Ibram X. Kendi, National Book Award-winning author of Stamped from the Beginning and How to Be an Antiracist
"Sharp and illuminating and a joy to read, Zirin's analysis of events is unparalleled for its clarity and force. This book has been missing from our understanding of the current political moment; Zirin has filled the void." -- Keeanga-Yamahtta Taylor, author From #BlackLivesMatter to Black Liberation
"In this captivating book, Zirin puts into sharp relief the activist potential of young athletes, and how they can serve as dismantlers of intersectional oppression." -- Kimberlé Crenshaw, co-founder and executive director, African American Policy Forum
"A powerful testimonial. Lessons in civic courage leap from every page as we see these amazing athletes risk everything to change this country and help set the stage for the racial reckoning we now face. Read this book and be inspired to fight for a new America!" -- Eddie S. Glaude Jr., author of Begin Again: James Baldwin's America and Its Urgent Lessons for Our Own
About the Author:
Dave Zirin is a columnist for The Nation, SLAM Magazine, and The Progressive. His many books include A People's History of Sports in the United States, Game Over, Bad Sports, and The Kaepernick Effect (all published by The New Press). Host of Sirius XM's popular weekly show Edge of Sports Radio and a regular guest on MSNBC, CNN, and ESPN, he lives near Washington, DC.