---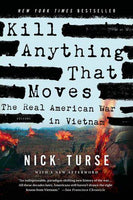 by Nick Turse
Picador USA
2014, paperback

SKU: 9781250045065
Based on classified documents and first-person interviews, a startling history of the American war on Vietnamese civilians
The American Empire Project
Winner of the Ridenhour Prize for Reportorial Distinction 
Americans have long been taught that events such as the notorious My Lai massacre were isolated incidents in the Vietnam War, carried out by just a few bad apples. But as award-winning journalist and historian Nick Turse demonstrates in this groundbreaking investigation, violence against Vietnamese noncombatants was not at all exceptional during the conflict. Rather, it was pervasive and systematic, the predictable consequence of official orders to kill anything that moves. 
Drawing on more than a decade of research into secret Pentagon archives and extensive interviews with American veterans and Vietnamese survivors, Turse reveals for the first time the workings of a military machine that resulted in millions of innocent civilians killed and wounded-what one soldier called a My Lai a month. Devastating and definitive, Kill Anything That Moves finally brings us face-to-face with the truth of a war that haunts America to this day. 
Reviews:
"In Kill Anything That Moves, Nick Turse has for the first time put together a comprehensive picture, written with mastery and dignity, of what American forces actually were doing in Vietnam. The findings disclose an almost unspeakable truth.... Like a tightening net, the web of stories and reports drawn from myriad sources coalesces into a convincing, inescapable portrait of this war--a portrait that, as an American, you do not wish to see; that, having seen, you wish you could forget, but that you should not forget." -Jonathan Schell, The Nation
"This book is an overdue and powerfully detailed account of widespread war crimes--homicide and torture and mutilation and rape--committed by American soldiers over the course of our military engagement in Vietnam. Nick Turse's research and reportage is based in part on the U.S. military's own records, reports, and transcripts, many of them long hidden from public scrutiny. Kill Anything That Moves is not only a compendium of pervasive and illegal and sickening savagery toward Vietnamese civilians, but it is also a record of repetitive deceit and cover-ups on the part of high ranking officers and officials. In the end, I hope, Turse's book will become a hard-to-avoid, hard-to-dismiss corrective to the very common belief that war crimes and tolerance for war crimes were mere anomalies during our country's military involvement in Vietnam." -Tim O'Brien, author of The Things They Carried
"Nick Turse reminds us again, in this painful and important book, why war should always be a last resort, and especially wars that have little to do with American national security. We failed, as Turse makes clear, to deal after the Vietnam War with the murders that took place, and today--four decades later--the lessons have yet to be learned. We still prefer kicking down doors to talking." -Seymour Hersh, staff writer, The New Yorker
"This deeply disturbing book provides the fullest documentation yet of the brutality and ugliness that marked America's war in Vietnam. No doubt some will charge Nick Turse with exaggeration or overstatement. Yet the evidence he has assembled is irrefutable. With the publication of Kill Anything That Moves, the claim that My Lai was a one-off event becomes utterly unsustainable." -Andrew J. Bacevich, Colonel, U.S. Army (Ret.), and author of Washington Rules: America's Path To Permanent War
"American patriots will appreciate Nick Turse's meticulously documented book, which for the first time reveals the real war in Vietnam and explains why it has taken so long to learn the whole truth." -James Bradley, author of Flags of Our Fathers
About the Author:
Nick Turse is the author of The Complex, the managing editor for TomDispatch.com, and a fellow at the Nation Institute. His work has appeared in the Los Angeles Times, the San Francisco Chronicle, and The Nation, among other publications. Turse's investigations of American war crimes in Vietnam have gained him a Ridenhour Prize for Reportorial Distinction, a Guggenheim Fellowship, and a fellowship at Harvard University's Radcliffe Institute for Advanced Study. He lives near New York City.