---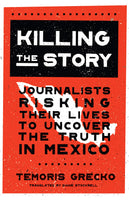 by Témoris Grecko, Translated by Diane Stockwell
New Press
8/18/2020
SKU: 9781620975022
A harrowing and unforgettable look at reporting in Mexico, one of the world's most dangerous countries to be a journalist.
In 2017, Mexico edged out Iraq and Syria as the deadliest country in the world in which to be a reporter, with at least fourteen journalists killed over the course of the year. The following year another ten journalists were murdered, joining the almost 150 reporters who have been killed since the mid-2000s in a wave of violence that has accompanied Mexico's war on drugs.
In Killing the Story, award-winning journalist and filmmaker Témoris Grecko reveals how journalists are risking their lives to expose crime and corruption. From the streets of Veracruz to the national television studios of Mexico City, Grecko writes about the heroic work of reporters at all levels--from the local self-trained journalist, Moises Sanchez, whose body was found dismembered by the side of a road after he reported on corruption by the state's governor, to high-profile journalists such as Javier Valdez Cárdenas, gunned down in the streets of Sinaloa, and Carmen Aristegui, battling the forces attempting to censor her.
In the vein of Charles Bowden's Murder City and Anna Politskaya's A Russian Diary, Killing the Story is a powerful memorial to the work of Grecko's lost colleagues, which shows a country riven by brutality, hypocrisy, and corruption, and sheds a light on how those in power are bent on silencing those determined to reveal the truth and bring an end to corruption.
Reviews:
"Grecko and translator Stockwell recount these troubling case studies in lucid and vivid prose. The result is a deeply disturbing account of the lengths powerful interests will go to keep their secrets hidden" -- Publishers Weekly
"Both a tribute to Mexico's persecuted journalists and a lucid analysis of the twenty-first-century Mexican state, Témoris Grecko's new book Killing the Story depicts in great detail the dynamics driving violence against journalists in Mexico." -- Madeleine Wattenbarger, The Baffler
"Grecko's book examines the most perilous corners of Mexican journalism over the past two decades... Grecko is not just a skilled reporter, but a sensitive writer who provides vivid reports of his fallen comrades." -- Times Literary Supplement
About the Author:
Témoris Grecko is a journalist who has worked in ninety-one countries. A regular contributor to Proceso and Aristegui Noticias, he has published five books in Spanish. He has made two documentaries, Watching Them Die: The Mexican Army and the 43 Disappeared and The Truth Shall Not Be Killed. The author of Killing the Story (The New Press), he lives in Mexico.