---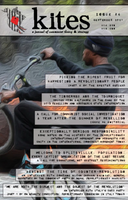 Kites Publications
2021, paperback
SKU: n/a
In this issue:
A Call for communist social investigation a year after the summer of rebellion; Issue #4 Editorial by the kites editorial committee
The Tinderbox and the Tourniquet: Voices from Baltimore in the Wake of the 2015 Rebellion and Bourgeois State Intervention, by kilmor
Against the Tide of Counter-Revolution: An Interview with Comrade Kiran (Mohan Baidya), General Secretary of the Communist Party of Nepal (Revolutionary Maoist), by the kites editorial committee
Welcome to Splitsvillle. Population: Every Leftist Organization of the last Decade: A call for summations, not subtweet recriminations, by the kites editorial committee
Picking the ripest fruit for harvesting a revolutionary people (part 4 of the specter series), by kenny lake
Exceptionally Serious Responsibility: Some notes on the history of the Revolutionary Internationalist Movement and prospects for unity in the international communist movement today, by hinton alvarez
"We are both the subject and the object of the revolution": An Interview with Italy's CARC Party (Part 1 of On Granite Conviction: revolutionary communism in italy today), by the kites editorial committee
a revolutionary people requires a revolutionary literature, by an editor of kites
About the Publisher:

kites is a journal of communist theory and strategy for revolution focused on North America. It emerged in 2020 from the initiative of two organizations: Revolutionary Initiative (RI) in Canada and the Organization of Communist Revolutionaries (OCR) in the US. Its Editorial Committee is composed of a few communist revolutionaries from across North America, and operates as an independent entity.
Be sure to check out the other titles from our friends at Kersplebedeb.