---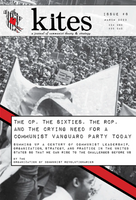 Kites Publications
3/2023, paperback
SKU: n/a
This issue of kites consists entirely of a major new document from the Organization of Communist Revolutionaries, "The CP, the Sixties, the RCP, and the Crying Need for a new Communist Vanguard Party Today: Summing up a century of communist leadership, organization, strategy, and practice in the United States so that we can rise to the challenges before us." A significant amount of preview content has already been released and can be sampled at kites-journal.org.
Be sure to check out the other titles from our friends at Kersplebedeb.
About the Publisher:
kites is a journal of communist theory and strategy for revolution focused on North America. It emerged in 2020 from the initiative of two organizations: Revolutionary Initiative (RI) in Canada and the Organization of Communist Revolutionaries (OCR) in the US. Its Editorial Committee is composed of a few communist revolutionaries from across North America, and operates as an independent entity.