---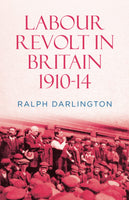 by Ralph Darlington
Pluto Press
3/20/2023, paperback
SKU: 9780745339030
New insights into one of the most important episodes in British labour history
The Labour Revolt that swept Britain in the early 20th century was one of the most sustained, dramatic, and violent explosions of industrial militancy and social conflict the country has ever experienced.
It involved large-scale strikes by miners, seamen, dockers, railway workers, and many others, and was dominated by unskilled and semi-skilled workers, many acting independently of trade-union officials. Because of this powerful grassroots energy, the country saw widespread solidarity action, phenomenal union membership growth, breakthroughs in both industrial unionism and women's union organization, and a dramatic increase in the collective power of the working-class movement. It heralded political radicalization that celebrated direct action and challenged head-on the Liberal government and police and military, as well as driving parliamentary reformism of the Labour Party.
Exploring the role of the radical left and the relationship between industrial struggles and political organization, with new archival research and fresh insights and combining history from below and above, Ralph Darlington provides a multi-dimensional portrayal of the context, causes, actors, dynamics, and contemporary significance of the Labour Revolt.
Reviews:
"A fascinating book that reminds us, with passion and vigor, of the years of political and trade union organization of the English workers' movement on the eve of the Great War. Unmissable." -- Raquel Varela, labour historian, professor at FCSH-Universidade Nova de Lisboa and author of A People's History of Europe: From World War 1 to Today and A People's History of the Portuguese Revolution
"A timely warning from history. Rising poverty and strike action. Collective bargaining, a tool for managing workers discontent. Westminster failing workers. An active rank & file holding unions accountable. All vital lessons we must apply during this current period of unrest." -- Henry Fowler and Robert Poole, Co-Founders, Strike Map

About the Author:

Ralph Darlington is Emeritus Professor of Employment Relations at Salford University. He has published a number of books, including Glorious Summer: Class Struggle in Britain 1972 and Radical Unionism: The Rise and Fall of Revolutionary Syndicalism. His research has been featured in national newspapers, and radio and television.