---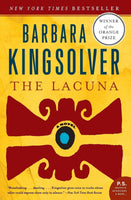 by Barbara Kingsolver
Harper Perennial
8/1/2010, paperback
SKU: 9780060852580
Best Book of the Year: New York Times Notable, Chicago Tribune, San Francisco Chronicle, Seattle Times, Kansas City Star
In The Lacuna, Barbara Kingsolver, tells the story of Harrison William Shepherd, a man caught between two worlds--an unforgettable protagonist whose search for identity will take readers to the heart of the twentieth century's most tumultuous events.
Kingsolver takes us on an epic journey from the Mexico of artists Diego Rivera and Frida Kahlo to the America of Pearl Harbor, FDR, and J. Edgar Hoover. The Lacuna is the poignant story of a man pulled between two nations as well as an unforgettable portrait of the artist--and of art itself.
Reviews:
"A sweeping narrative of utopian dreams and political reality...A stirring novel...intimate and pitch-perfect."-- San Diego Union-Tribune
"A sweeping mural of sensory delights and stimulating ideas about art, government, identity and history...Readers will feel the sting of connection between then and now."-- Seattle Times
"Breathtaking...dazzling...The Lacuna can be enjoyed sheerly for the music of its passages on nature, archaeology, food and friendship; or for its portraits of real and invented people...But the fuller value...lies in its call to conscience and connection."-- New York Times Book Review
About the Author:
Barbara Kingsolver is the author of nine bestselling works of fiction, including the novels, Flight Behavior, The Lacuna, The Poisonwood Bible, Animal Dreams, and The Bean Trees, as well as books of poetry, essays, and creative nonfiction. Her work of narrative nonfiction is the enormously influential bestseller Animal, Vegetable, Miracle: A Year of Food Life. Kingsolver's work has been translated into more than twenty languages and has earned literary awards and a devoted readership at home and abroad. She was awarded the National Humanities Medal, our country's highest honor for service through the arts, as well as the prestigious Dayton Literary Peace Prize for her body of work. She lives with her family on a farm in southern Appalachia.