---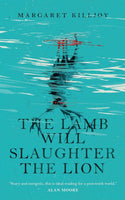 by Margaret Killjoy
Tor Books
8/15/2017, paperback
SKU: 9780765397362
The Lamb Will Slaughter the Lion by Margaret Killjoy pits utopian anarchists against rogue demon deer in this dropkick-in-the-mouth punk fantasy that Alan Moore calls "scary and energetic."
Searching for clues about her best friend's mysterious suicide, Danielle ventures to the squatter, utopian town of Freedom, Iowa, and witnesses a protector spirit -- in the form of a blood-red, three-antlered deer -- begin to turn on its summoners. She and her new friends have to act fast if they're going to save the town -- or get out alive.
Check out the next in the series, The Barrow Will Send What it May.
Reviews:
"Utterly engrossing from the first sentence; it refuses to let you go." --Mur Lafferty, Award-winning author of the John W. Campbell Award for Best New Writer
"Fast, eerie and crackling with disarmingly matter-of-fact phantasmagoria, Margaret Killjoy's The Lamb Will Slaughter the Lion maps a wilderness peopled by marginalised outsiders where everything from sexual identity to material reality is in the same state of fluid drift. Intelligent and fiercely imagined, this book is a passport to a world hauntingly similar to our own, in which disturbing unreality appears to have become an accepted universal condition that is scarcely worth mentioning. Scary and energetic, this is ideal reading for a winter's evening in a post-truth world. Highly recommended." --Alan Moore, author of Watchmen and V for Vendetta
About the Author:
Margaret Killjoy is a transfeminine author, born and raised in Maryland, who has spent her adult life traveling with no fixed home. A life on the road has given her a healthy respect for hobos, street kids, and other elements of the criminal class. A 2015 graduate of Clarion West, Margaret's short fiction has been published by Tor.com, Strange Horizons, Vice's Terraform, and Fireside Fictionamongst others. She founded SteamPunk Magazine in 2006, and her nonfiction books have been published by anarchist publisher AK Press. Margaret's wrote A Country of Ghosts, a utopian novel published by Combustion Books in 2014. She is also the author of the Danielle Cain series, starting with The Lamb Will Slaughter the Lion, from Tor.com Publishing.