---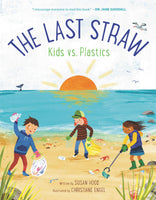 by Susan Hood, Illustrated by Christiane Engel
HarperCollins
2/16/2021, hardcover
SKU:  9780062981394
There's no doubt about it--plastic is in almost everything. From our phones and computers to our toys and utensils, plastic is everywhere. But the amount of plastic we throw away is hurting the health of our planet.
With The Last Straw: Kids vs. Plastics, readers will be fascinated as they learn about the growing plastic problem and meet just a few of the young activists who are standing up and speaking out for change.
You'll hear about the "Be Straw Free" campaign, started by nine-year-old Milo Cress.
You'll discover how scientists are using jellyfish snot and munching, crunching caterpillars to break down plastic pollution faster.
You'll meet Xóchitl Guadalupe Cruz López, the eight-year-old girl turning old plastic bottles into solar heaters.
And there are many more incredible kids here, not much older than our readers, who will inspire us all to change the way we think about plastic!
With an introduction from Milo Cress and bright, colorful illustrations from Christiane Engel, this collection of brilliant, lyrical nonfiction poems by award-winning author Susan Hood highlights the threat of plastic and the kids who are fighting for change to save our planet. Includes extensive backmatter with a timeline, author's note, further resources, and more.
Reviews:
A breezy way of introducing ecology concepts and starting important conversations.  -- Booklist
In this factually augmented poetry collection, Hood illuminates the reasons, repercussions, and remedies for humans' considerable use of plastic....Engel's vivid, inclusive digital illustrations bolster this appealingly accessible picture book.--Publishers Weekly
About the Contributors:
Susan Hood is the award-winning author of many books for young readers, including Ada's Violin; Shaking Things Up; Titan and the Wild Boars: The True Cave Rescue of the Thai Soccer Team; and Lifeboat 12. She is the recipient of an E. B. White Read Aloud Picture Book Honor, the Christopher Award, the Américas Award for Children's and Young Adult Literature, the Golden Kite Award, and the Bank Street Flora Stieglitz Straus Award, given annually for "a distinguished work of nonfiction that serves as an inspiration to young people." Visit her at www.susanhoodbooks.com.
Christiane Engel has illustrated more than forty books for children, including the crtically acclaimed The Earth Gives More and What Do You Celebrate? She is also the author of the ABC for Me board book series, including Our ABC of Yoga and ABC Mindful Me. She loves creating books that inspire readers to be curious and compassionate about the world. She lives in Kent, England. Visit her at www.chengelillustration.com.