---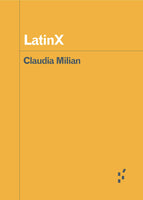 by Claudia Milian
University of Minnesota Press
2/1/2020, paperback
SKU: 9781517909055
Nationality is not enough to understand "Latin"-descended populations in the United States
LatinX has neither country nor fixed geography. LatinX, according to Claudia Milian, is the most powerful conceptual tool of the Latino/a present, an itinerary whose analytic routes incorporate the Global South and ecological devastation. Milian's trailblazing study deploys the indeterminate but thunderous "X" as intellectual armor, a speculative springboard, and a question for our times that never stops being asked. LatinX sorts out and addresses issues about the unknowability of social realities that exceed our present knowledge.
Part of the University of Minnesota Press "Forerunners: Ideas First" series - short books of thought-in-process scholarship, where intense analysis, questioning, and speculation take the lead
About the Author:
Claudia Milian is associate professor and director of the Program in Latino/a Studies in the Global South at Duke University. She is author of Latining America.