---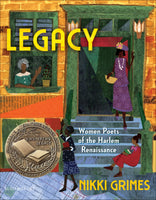 by Nikki Grimes
Bloomsbury Publishing
1/5/2021, hardcover
SKU: 9781681199443
From Children's Literature Legacy Award-winning author Nikki Grimes comes a feminist-forward new collection of poetry celebrating the little-known women poets of the Harlem Renaissance -- paired with full-color, original art from today's most talented female African-American illustrators.
For centuries, accomplished women -- of all races -- have fallen out of the historical records. The same is true for gifted, prolific, women poets of the Harlem Renaissance who are little known, especially as compared to their male counterparts.
In this poetry collection, bestselling author Nikki Grimes uses The Golden Shovel poetic method to create wholly original poems based on the works of these groundbreaking women-and to introduce readers to their work.
Each poem is paired with one-of-a-kind art from today's most exciting female African-American illustrators: Vanessa Brantley-Newton, Cozbi A. Cabrera, Nina Crews, Pat Cummings, Laura Freeman, Jan Spivey Gilchrist, Ebony Glenn, April Harrison, Vashti Harrison, Ekua Holmes, Cathy Ann Johnson, Keisha Morris, Daria Peoples-Riley, Andrea Pippins, Erin Robinson, Shadra Strickland, Nicole Tadgell, and Elizabeth Zunon.
Legacy also includes a foreword, an introduction to the history of the Harlem Renaissance, author's note, and poet biographies, which make this a wonderful resource and a book to cherish.
Target age: 10 to 16
Reviews:
"An abundantly layered landscape of Black female experiences." -- Publishers Weekly, starred review

"A compelling reflection on gender, race, politics, and everyday life... A striking collection of voices, who examine and celebrate the experience of Black women from the past and present. An excellent introduction to Black women writers who were ignored by history." -- School Library Journal, starred review
"A compelling dialogue with the past." -- BCCB, starred review
"Remarkable... The art here is unified in its emphasis on portraying the beauty and uniqueness of Black girls and women... This unique title is sure to spark thought and touch hearts." -- Booklist
"The eloquent and stirring voices of Grimes and her counterparts of the past resonate with passion, purpose, and resilience." -- The Horn Book Magazine
"Radiant mixed-media art bolsters Grimes's themes, full-page, full-bleed illustrations showcasing images of beautiful Black women, young and old, of all shapes, sizes and shades living their lives and being unapologetically themselves. The beautifully written Legacy will make anyone, regardless of age, sex or race, feel a sense of pride in being a citizen of the world." -- Shelf Awareness
About the Author:
Nikki Grimes is the recipient of the 2006 NCTE Award for Excellence in Poetry for Children. Her distinguished works include ALA Notable book, What is Goodbye?, the novels Jazmin's Notebook, Dark Sons, and The Road to Paris (Coretta Scott King Author Honor Books). Creator of the popular Meet Danitra Brown, Ms. Grimes lives in Corona, California.