---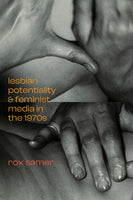 by Rox Samer
Duke University Press
03/18/2022, paperback
SKU: 9781478018025
In Lesbian Potentiality and Feminist Media in the 1970s, Rox Samer explores how 1970s feminists took up the figure of the lesbian in broad attempts to reimagine gender and sexuality. Samer turns to feminist film, video, and science fiction literature, offering a historiographical concept called "lesbian potentiality" -- a way of thinking beyond what the lesbian was, in favor of how the lesbian signified what could have come to be. Samer shows how the labor of feminist media workers and fans put lesbian potentiality into movement. They see lesbian potentiality in feminist prison documentaries that theorize the prison industrial complex's racialized and gendered violence and give image to Black feminist love politics and freedom dreaming. Lesbian potentiality also circulates through the alternative spaces created by feminist science fiction and fantasy fanzines like The Witch and the Chameleon and Janus. It was here that author James Tiptree, Jr./Alice B. Sheldon felt free to do gender differently and inspired many others to do so in turn. Throughout, Samer embraces the perpetual reimagination of "lesbian" and the lesbian's former futures for the sake of continued, radical world-building.
Reviews:
"Rox Samer reworks the genealogy of contemporary feminist, queer, and trans cultural politics in this fascinating foray into the futures envisioned by speculative lesbian literature and media half a century ago. It's brilliant, generative, and timely." -- Susan Stryker, Executive Editor, "TSQ: Transgender Studies Quarterly"
"Feminist documentary and science fiction: they nourish so many of our lives in tandem, but we so often study them separately. By merging the perspectives of the scholar, maker, and fan while traversing spaces from the archive to the convention hall and refining ideas as elegant as their gorgeous prose, Rox Samer is the perfect person to conduct this tour of the distinctive yet deeply overlapping legacies of these genres and the people who made them possible." -- Nick Davis, author of "The Desiring-Image: Gilles Deleuze and Contemporary Queer Cinema"
About the Author:
Rox Samer is Assistant Professor of Visual and Performing Arts at Clark University and editor of the "Transgender Media" special issue of Spectator.