---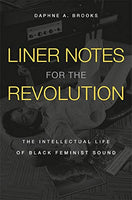 by Daphne A. Brooks
Harvard University Press
2/23/2021, hardcover
SKU: 9780674052819
Winner of the Josephine Miles-PEN Oakland Book Award
Winner of the MAAH Stone Book Award
A Rolling Stone Best Music Book of the Year
A Pitchfork Best Music Book of the Year
"Brooks traces all kinds of lines, finding unexpected points of connection...inviting voices to talk to one another, seeing what different perspectives can offer, opening up new ways of looking and listening by tracing lineages and calling for more space."-New York Times
An award-winning Black feminist music critic takes us on an epic journey through radical sound from Bessie Smith to Beyoncé.
Daphne A. Brooks explores more than a century of music archives to examine the critics, collectors, and listeners who have determined perceptions of Black women on stage and in the recording studio. How is it possible, she asks, that iconic artists such as Aretha Franklin and Beyoncé exist simultaneously at the center and on the fringe of the culture industry?
Liner Notes for the Revolution offers a startling new perspective on these acclaimed figures--a perspective informed by the overlooked contributions of other Black women concerned with the work of their musical peers. Zora Neale Hurston appears as a sound archivist and a performer, Lorraine Hansberry as a queer Black feminist critic of modern culture, and Pauline Hopkins as America's first Black female cultural commentator. Brooks tackles the complicated racial politics of blues music recording, song collecting, and rock and roll criticism. She makes lyrical forays into the blues pioneers Bessie Smith and Mamie Smith, as well as fans who became critics, like the record-label entrepreneur and writer Rosetta Reitz. In the twenty-first century, pop superstar Janelle Monae's liner notes are recognized for their innovations, while celebrated singers Cécile McLorin Salvant, Rhiannon Giddens, and Valerie June take their place as cultural historians.
With an innovative perspective on the story of Black women in popular music--and who should rightly tell it-- Liner Notes for the Revolution pioneers a long overdue recognition and celebration of Black women musicians as radical intellectuals.
Reviews:
"Effortlessly poetic, deeply historical, and insistently imaginative, Liner Notes for the Revolution doesn't merely give voice to unheeded and crucial innovators; it offers a new method for approaching music history itself." -Ann Powers, author of Good Booty
"Daphne Brooks's brilliant evocation of what gets lost when women of color don't speak, let alone sing, is one of the most moving testaments to the power of silence, and what breaking that silence means, that I have ever read. Vivid, joyful, and heartbreaking in its passionate understanding of soul in all its manifestations, Liner Notes for the Revolution is itself a new kind of music: propulsive, witty, wise, and true." -Hilton Als, author of White Girls
"Liner Notes for the Revolution is a groundbreaking and breathtaking volume from one of our leading cultural historians that will forever change the way we write and think about American culture. Daphne Brooks insists upon the genius of Black women music-makers, listeners, and critics. This transformative work of intellectual generosity is sure to join the ranks of classic works such as Amiri Baraka's Blues People and Greil Marcus's Lipstick Traces." -Farah Jasmine Griffin, author of Harlem Nocturne
"Brooks takes on a wide-ranging study of Black female artists, from elders like Bessie Smith and Ethel Waters to Beyoncé and Janelle Monáe. But she reaches far beyond music, exploring writers like Zora Neale Hurston and Pauline Hopkins... Liner Notes is a secret history in the spirit of Greil Marcus, connecting the sonic worlds of Black female mythmakers and truth-tellers." -Rob Sheffield, Rolling Stone
About the Author:
Daphne A. Brooks is author of Jeff Buckley's Grace and Bodies in Dissent, winner of the Errol Hill Award for outstanding scholarship in African American performance studies. The William R. Kenan Jr. Professor of African American Studies and Professor of Theater Studies, American Studies, and Women's, Gender, and Sexuality Studies at Yale University, Brooks has written liner notes to accompany the recordings of Aretha Franklin, Tammi Terrell, and Prince, as well as stories for the New York Times, The Guardian, The Nation, and Pitchfork.