---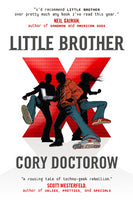 by Cory Doctorow
Tor Books
04/13/2010, paperback
SKU: 9780765323118
Marcus, a.k.a "w1n5t0n," is only seventeen years old, but he figures he already knows how the system works–and how to work the system. Smart, fast, and wise to the ways of the networked world, he has no trouble outwitting his high school's intrusive but clumsy surveillance systems.
But his whole world changes when he and his friends find themselves caught in the aftermath of a major terrorist attack on San Francisco. In the wrong place at the wrong time, Marcus and his crew are apprehended by the Department of Homeland Security and whisked away to a secret prison where they're mercilessly interrogated for days.
When the DHS finally releases them, Marcus discovers that his city has become a police state where every citizen is treated like a potential terrorist. He knows that no one will believe his story, which leaves him only one option: to take down the DHS himself.
Target Age: 13-18.
Reviews:
"A wonderful, important book... I'd recommend Little Brother over pretty much any book I've read this year, and I'd want to get it into the hands of as many smart thirteen-year-olds, male and female, as I can. Because I think it'll change lives. Because some kids, maybe just a few, won't be the same after they've read it. Maybe they'll change politically, maybe technologically. Maybe it'll just be the first book they loved or that spoke to their inner geek. Maybe they'll want to argue about it and disagree with it. Maybe they'll want to open their computer and see what's in there. I don't know. It made me want to be thirteen again "right now," and reading it for the first time." -- Neil Gaiman, author of Sandman and American Gods
"A worthy younger sibling to Orwell's Nineteen Eighty-Four, Cory Doctorow's Little Brother is lively, precocious, and most importantly, a little scary." -- Brian K. Vaughan, author of the graphic novel Y: The Last Man
"It's about growing up in the near future where things have kept going on the way they've been going, and it's about hacking as a habit of mind, but mostly it's about growing up and changing and looking at the world and asking what you can do about that. The teenage voice is pitch-perfect. I couldn't put it down, and I loved it." -- Jo Walton, author of Farthing
About the Author:
Cory Doctorow is a regular contributor to the Guardian, Locus, and many other publications. He is a special consultant to the Electronic Frontier Foundation, an MIT Media Lab Research Associate and a visiting professor of Computer Science at the Open University. His award-winning novel Little Brother and its sequel Homeland were a New York Times bestsellers. His novella collection Radicalized was a CBC Best Fiction of 2019 selection. Born and raised in Canada, he lives in Los Angeles.