---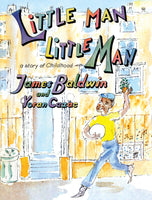 by James Baldwin, Illustrated by Yoran Cazac
Duke University Press
8/24/2018, hardcover
SKU: 9781478000044
Four-year-old TJ spends his days on his lively Harlem block playing with his best friends WT and Blinky and running errands for neighbors. As he comes of age as a "Little Man" with big dreams, TJ faces a world of grown-up adventures and realities. Baldwin's only children's book, Little Man, Little Man celebrates and explores the challenges and joys of black childhood.
Now available for the first time in forty years, this new edition of Little Man, Little Man--which retains the charming original illustrations by French artist Yoran Cazac--includes a foreword by Baldwin's nephew Tejan "TJ" Karefa-Smart and an afterword by his niece Aisha Karefa-Smart, with an introduction by two Baldwin scholars. In it we not only see life in 1970s Harlem from a black child's perspective, but we also gain a fuller appreciation of the genius of one of America's greatest writers.
Reviews:
"Cazac's lively drawings not only convey the emotional energy of the children's urban world, but also complement Baldwin's rhapsodic celebration of blackness as a spectrum."--Ayten Tartici, "Slate"
"A must-read for fans of Baldwin, for those with interest in historical perspectives, and for those seeking a compelling story that will endure."--Ricki Ginsberg "Unleashing Readers"
About the Contributors:
James Baldwin (1924-1987), the world-famous novelist, playwright, essayist, critic, and public intellectual, was the grandson of a slave. He grew up in Harlem and was the oldest of nine children. He spent three years while in his teens as a preacher and briefly worked on the New Jersey railroad. In the 1940s he met his mentor, painter Beauford Delaney, and moved to Greenwich Village. In 1948 he left the United States and moved to Paris. His first novel-- Go Tell It on the Mountain--was published in 1953, and over the next ten years he wrote many essays and several of his best-known works, including Notes of a Native Son, Giovanni's Room, and The Fire Next Time. During the 1960s Baldwin split his time between Istanbul and the United States, where he was active in the civil rights movement. In 1971 he moved to Saint Paul-de-Vence, a village in the south of France. There he wrote, among other works, Little Man, Little Man, which he dedicated to Beauford Delaney; and the novel If Beale Street Could Talk, which he dedicated to Yoran Cazac.
Yoran Cazac (1938-2005) was a French artist who first gained attention for his abstract paintings in Paris in the 1960s. He moved to Rome, where he became the protégé of the painter Balthus, director of the French Academy. Cazac met Baldwin in Paris in 1959 through their mutual friend, painter Beauford Delaney. They rekindled their friendship in the 1970s, when Baldwin asked Cazac to provide the illustrations for Little Man, Little Man. Baldwin contributed an essay for the catalog of Cazac's 1977 exhibition at the Chateau de Maintenon. Cazac's final solo exhibition was held at the Kiron Gallery in Paris in 2003.