---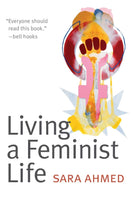 by Sara Ahmed
Duke University Press
2/3/2017, paperback
SKU: 9780822363194
In Living a Feminist Life Sara Ahmed shows how feminist theory is generated from everyday life and the ordinary experiences of being a feminist at home and at work. Building on legacies of feminist of color scholarship in particular, Ahmed offers a poetic and personal meditation on how feminists become estranged from worlds they critique-often by naming and calling attention to problems-and how feminists learn about worlds from their efforts to transform them.
Ahmed also provides her most sustained commentary on the figure of the feminist killjoy introduced in her earlier work while showing how feminists create inventive solutions-such as forming support systems-to survive the shattering experiences of facing the walls of racism and sexism. The killjoy survival kit and killjoy manifesto, with which the book concludes, supply practical tools for how to live a feminist life, thereby strengthening the ties between the inventive creation of feminist theory and living a life that sustains it.
Reviews:
"From the moment I received Sara Ahmed's new work, Living a Feminist Life, I couldn't put it down. It's such a brilliant, witty, visionary new way to think about feminist theory. Everyone should read this book. It offers amazing new ways of knowing and talking about feminist theory and practice. And, it is also delightful, funny, and as the song says, 'your love has lifted me higher.' Ahmed lifts us higher." --bell hooks
"I read Living a Feminist Life with a deep sense of recognition. This is a book that feminists will find illuminating--acutely painful at times, but mostly profoundly insightful. Written in Sara Ahmed's trademark evocative style whereby concepts, experiences, words, ideas, structures, and bodies are examined thoroughly from all possible angles, the book documents what it means to understand and lay claim to living everyday life as a feminist. Analytic gems like 'sweaty concepts' and 'feminist killjoy' are peppered throughout, causing the reader to pause and reflect--stopping us in our tracks, making the act of reading a 'sensational' one, thus enacting theory in the flesh. A beautifully written, smartly provocative book that belongs on our shelves, in our classrooms, and in our daughters' hands." --Chandra Talpade Mohanty, author of Feminism without Borders: Decolonizing Theory, Practicing Solidarity
About the Author:
Sara Ahmed is a feminist writer, scholar, and activist. She is the author of Willful Subjects, On Being Included, The Promise of Happiness, and Queer Phenomenology, all also published by Duke University Press.