---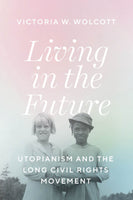 by Victoria W. Wolcott
University of Chicago Press
4/21/2022, hardcover
SKU: 9780226817255
Living in the Future reveals the unexplored impact of utopian thought on the major figures of the Civil Rights Movement.
Utopian thinking is often dismissed as unrealistic, overly idealized, and flat-out impractical—in short, wholly divorced from the urgent conditions of daily life. This is perhaps especially true when the utopian ideal in question is reforming and repairing the United States' bitter history of racial injustice. But as Victoria W. Wolcott provocatively argues, utopianism is actually the foundation of a rich and visionary worldview, one that specifically inspired the major figures of the Civil Rights Movement in ways that haven't yet been fully understood or appreciated.
Wolcott makes clear that the idealism and pragmatism of the Civil Rights Movement were grounded in nothing less than an intensely utopian yearning. Key figures of the time, from Martin Luther King Jr. and Pauli Murray to Father Divine and Howard Thurman, all shared a belief in a radical pacificism that was both specifically utopian and deeply engaged in changing the current conditions of the existing world. Living in the Future recasts the various strains of mid-twentieth-century civil rights activism in a utopian light, revealing the power of dreaming in a profound and concrete fashion, one that can be emulated in other times that are desperate for change, like today.
Reviews:
"In this beautifully written, deeply researched, and groundbreaking study of black utopian activist movements, Wolcott recovers the forgotten histories that inspired the Civil Rights Movement. She gives extraordinary texture to the work of utopia on the ground and shows how utopia isn't just a good theory, but a real, attainable, and necessary practice that can energize all those who care about the future and repairing our world. This astonishing book will forever change how we think about utopia and the struggle for democracy, both in the United States and across the globe." -- Alex Zamalin, author of Black Utopia: The History of an Idea form Black Nationalism to Afrofuturism
"I could not stop reading this fascinating, surprising, and inspiring book. Sweeping in scope while still richly detailed, Living in the Future deserves to become a foundational text in our understanding of the long Civil Rights Movement. While famous figures like Rosa Parks and Dr. Martin Luther King Jr. emerge in a new light, these pages are full of lesser-known activists who dreamed of a better world and then fought to build it. Their stories are rich and moving -- and full of lessons for all those who wish to achieve peace and justice in our world today." -- Nico Slate, author of The Prism of Race: W.E.B. Du Bois, Langston Hughes, Paul Robeson, and the Colored World of Cedric Dover.
About the Author:
Victoria W. Wolcott is professor of history at the University of Buffalo.