---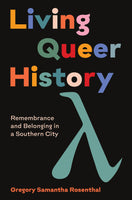 by Gregory Samantha Rosenthal
University of North Carolina Press
12/7/2021, paperback
SKU: 9781469665801
Living Queer History tells the story of an LGBTQ community in Roanoke, Virginia, a small city on the edge of Appalachia. Interweaving historical analysis, theory, and memoir, Gregory Samantha Rosenthal tells the story of their own journey--coming out and transitioning as a transgender woman--in the midst of working on a community-based history project that documented a multigenerational southern LGBTQ community. Based on over forty interviews with LGBTQ elders, Living Queer History explores how queer people today think about the past and how history lives on in the present.
Reviews:
"A brilliantly blended book that, much like queerness itself, transcends genre and blurs boundaries. Using memoir to look outward and history to look inward, Rosenthal makes theory concrete, finds the past in the present, and brings Roanoke's overlooked queer demimonde to beautiful life." --Samantha Allen, author of Real Queer America: LGBT Stories from Red States
"A moving and necessary account of the way making history remakes ourselves, Living Queer History asks what it means for a queer person to have a place and to take up space in a straight world. With keen insight into their own queer life, Samantha Rosenthal combines personal narrative, oral history, activism, and queer theory to offer a fuller understanding of queer belonging." --Jenn Shapland, author of My Autobiography of Carson McCullers
About the Author:
Gregory Samantha Rosenthal is Associate Professor of History at Roanoke College and co-founder of the Southwest Virginia LGBTQ+ History Project.