---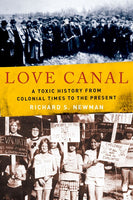 by Richard S. Newman
Oxford University Press
05/10/2016, hardcover
SKU: 9780195374834
In the summer of 1978, residents of Love Canal, a suburban development in Niagara Falls, NY, began protesting against the leaking toxic waste dump in their midst-a sixteen-acre site containing 100,000 barrels of chemical waste that anchored their neighborhood. Initially seeking evacuation, area activists soon found that they were engaged in a far larger battle over the meaning of America's industrial past and its environmental future. The Love Canal protest movement inaugurated the era of grassroots environmentalism, spawning new anti-toxics laws and new models of ecological protest.
Historian Richard S. Newman examines the Love Canal crisis through the area's broader landscape, detailing the way this ever-contentious region has been used, altered, and understood from the colonial era to the present day. Newman journeys into colonial land use battles between Native Americans and European settlers, 19th-century utopian city planning, the rise of the American chemical industry in the 20th century, the transformation of environmental activism in the 1970s, and the memory of environmental disasters in our own time.
In an era of hydrofracking and renewed concern about nuclear waste disposal, Love Canal remains relevant. It is only by starting at the very beginning of the site's environmental history that we can understand the road to a hazardous waste crisis in the 1970s-and to the global environmental justice movement it sparked.
Reviews:
"[T]his legacy of Love Canal may provide redemption and hope." -- Amy M. Hay, The Journal of American History
"Newman manages to retell the story in a way that is fresh and imbues Love Canal, as place and symbol, with new importance for understanding the history of citizen activism, environmentalism, and environmental regulation in the United States Newman's examination of Love Canal in the longue durée of American settlement reveals intriguing patterns in land use and attitudes and raises questions about the future uses of remediated toxic landscapes The author's enthusiasm for his subject does not detract from the immense value of the book. Although many books have been written about this foundational event in American environmental history, most will find this one essential reading." -- Cody Ferguson, Environmental History
"Thorough and well-written It also reminds us that the toxic history of Love Canal will not soon end. Newman's narrative is more complete than any that has come before. He makes excellent use of rich source material..." -- David Stradling, American Historical Review
About the Author:
Richard S. Newman is Professor of History at Rochester Institute of Technology. A native of Buffalo, New York, he is the author and/or editor of five previous books on abolitionism, African American history, and environmentalism, including The Palgrave Environmental Reader and Freedom's Prophet: Bishop Richard Allen, the AME Church, and the Black Founding Fathers. For fifteen years, he taught environmental history at Rochester Institute of Technology.