---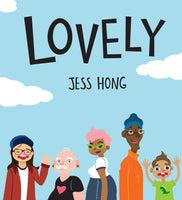 by Jess Hong
Creston Books
10/1/2017, hardcover
SKU: 9781939547378
Big, small, curly, straight, loud, quiet, smooth, wrinkly. Lovely explores a world of differences that all add up to the same thing: we are all lovely!
Reviews:
Love! Love! Love! No classical 'differences' representations, just straight up all kinds of people. A quick read, a fun palette, a cross section, a wonderful message. Well done, you!--Charity McMaster
This "lovely" book promotes the simple message that we are all different and that is lovely. A beautiful celebration of diversity!--Julie Downing
About the Author:
Jess Hong earned a degree in illustration at the Academy of Art in 2016. It was there that she developed a passion for children's book illustration and where "Lovely" was born. Being terribly near-sighted, heavily tattooed, and Asian-American are some of the things that make her lovely. You can visit her at jesshong.net.