---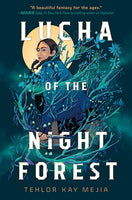 by Tehlor Kay Mejia
Make Me a World
3/21/2023, hardcover
SKU: 9780593378366
An edge-of-your-seat fantasy about a girl who will do anything to protect her sister—even if it means striking a dangerous bargain. Dark forces, forgotten magic, and a heart-stopping queer romance make this young adult novel a must-read.
A scorned god.
A mysterious acolyte.
A forgetting drug.
A dangerous forest.
One girl caught between the freedom she always wanted and a sister she can't bear to leave behind.
Under the cover of the Night Forest, will Lucha be able to step into her own power... or will she be consumed by it?
This gorgeous and fast-paced fantasy novel from acclaimed author Tehlor Kay Mejia is brimming with adventure, peril, romance, and family bonds—and asks what it means for a teen girl to become fully herself.
Target age: 12 and up
Reviews:
"[This] story is inspiring and empowering, existing in the intersections between destiny and choice, history and myth, with strong roots in family bonds as well as a budding queer romance." -- Kirkus Reviews
"What's really extraordinary is Mejia's message of empowerment... that no matter how dark the forest, we can always choose our path." -- Roshani Chokshi, New York Times bestselling author of The Guilded Wolves
About the Author:
is the author of the critically acclaimed young adult fantasy duology We Set the Dark on Fire and We Unleash the Merciless Storm. Their debut middle-grade series, Paola Santiago and the River of Tears, is in development at Disney as a television series to be produced by Eva Longoria. Tehlor lives with their daughter, partner, and two small dogs in Oregon, where they grow heirloom corn and continues their quest to perfect the vegan tamale.