---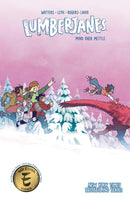 by Shannon Watters, Grace Ellis, Kat Leyh, AnneMarie Rogers and Maarta Laiho
Boom Box
12/22/2020, paperback
SKU: 9781684156160
The New York Times bestselling series returns as Mal tries to prove her bravery...but ends up stranded in the Land of Lost Things!
DINOSAURS, DANGER & DIMENSION-HOPPING AND ...OH MY!
Mal wants to learn to be braver, but when she recruits Ripley to help her face her fears, she ends up somewhere she really should be afraid of--the Land of Lost Things, a pocket universe where dinosaurs still roam the earth, and time doesn't work the way it should. Stranded on her own in an alternate dimension, will Mal be able to find her way back home to camp? And back on the other side of the portal, will Molly, April, Jo, and Ripley be able to find Mal again and save her? Or are they about to get stuck, too?
Writers Shannon Watters and Kat Leyh (Super Cakes) and artist AnneMarie Rogers present the newest collection of stories from the New York Times bestseller and multiple Eisner Award and GLAAD Award-winning series where you're never lost as long as you hold onto the ones you love most!
Target age: 11 to 16
Check out the entire Lumberjanes series here.