---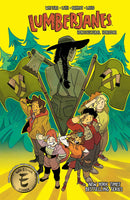 by Kat Leyh, Shannon Watters and Kanesha C. Bryant
Boom Box
5/25/2021, paperback
SKU: 9781684156986
THEY'RE NOT OUT OF THE WOODS QUITE YET! When April, Jo, Mal, Molly, and Ripley get in trouble with Rosie, the mysterious director of Miss Qiunzella Thiskwin Penniquiqul Thistle Crumpet's Camp for Hardcore Lady-Types, they figure the punishment is gonna be a walk in the park... er, woods. That's before a super gross, and seemingly-sentient creeping vine starts popping up everywhere and scooping 'Janes up! And then there's Rosie's best friend from long ago: the elegant and enigmatic Abigail, who's appeared out of the woodwork to join forces with the Lumberjanes once more! The team of Kat Leyh, Shannon Watters and Kanesha C. Bryant send the 'Janes on their most surprising adventure yet in the next volume of the New York Times best-selling phenomenon.
Collects Lumberjanes #69-72.
Target age: 13 to 17
Check out the entire Lumberjanes series here.