---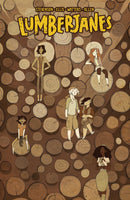 by Shannon Watters, Brooklyn Allen, Noelle Stevenson, Grace Ellis
Boom Box
7/12/2016, paperback
SKU: 9781608868605
The mystery of history!
Jen just wants to have a normal lesson with her cabin, teaching Jo, April, Mal, Molly, and Ripley the basic survival skills needed without any supernatural intervention when a blizzard hits camp! Separated from her girls, Jen finds herself in more trouble than ever...until a mysterious stranger swoops in to save the day. Who is this taxidermist? What is her relationship to Rosie? Join Jen as she finds a way back to her girls, and a way to save the day!
This New York Times bestseller and multiple Eisner Award-winning series is written by Noelle Stevenson ( Nimona) and Shannon Watters, and illustrated by Carolyn Nowak ( Rungs). Featuring spooky guest talent Faith Erin Hicks ( Friends with Boys), Brittney Williams ( Patsy Walker AKA Hellcat), Felicia Choo, and more.
Target age: 9-12
Check out the entire Lumberjanes series here.
About the Authors:
Shannon Watters is a senior editor at BOOM! Studios and head of its critically-acclaimed YA imprint BOOM! Box. She is also the co-creator and co-writer of the award-winning comic book series Lumberjanes. She lives in Los Angeles.
Noelle Stevenson is the creator of the web comic Nimona. Stevenson started Nimona as a student at Maryland Institute College of Art. The comic was first published in June 2012 and doubled as Stevenson's senior thesis.