---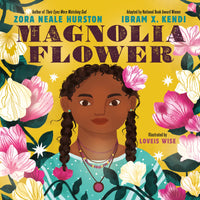 by Zora Neale Hurston and Ibram X. Kendi, Illustrated by Loveis Wise
Amistad Books for Young
9/6/2022, hardcover
SKU: 9780063098312
From beloved African American folklorist Zora Neale Hurston comes a moving adaptation by National Book Award winner and #1 New York Times bestselling author of How to Be an Antiracist and Antiracist Baby, Ibram X. Kendi. Magnolia Flower follows a young Afro Indigenous girl who longs for freedom and is gorgeously illustrated by Loveis Wise (The People Remember, Ablaze with Color).
Born to parents who fled slavery and the Trail of Tears, Magnolia Flower is a girl with a vibrant spirit. Not to be deterred by rigid ways of the world, she longs to connect with others, who too long for freedom. She finds this in a young man of letters who her father disapproves of. In her quest to be free, Magnolia must make a choice and set off on a journey that will prove just how brave one can be when leading with one's heart.
Reviews:
"[A] powerful example of Black and Native resistance--an aspect of history that far too often goes undiscussed. Wise's earth-toned, opalescent illustrations make the trees, water, and flowers feel just as key to the tale as the humans. The excellent marriage between lyrical text and stunning visuals makes for a moving, memorable story. An artfully rendered tale of life and love that also conveys an essential but often overlooked chapter in U.S. history." -- Kirkus Reviews
"I hope that the luminous spirit of the GREAT Zora Neale Hurston is forever shining down on Loveis and Ibram for their most gracious retelling of this sweet yet powerful folktale; a declaration of love." -- Derrick Barnes
About the Contributors:
Zora Neale Hurston was a novelist, folklorist, and anthropologist. She wrote four novels (Jonah's Gourd Vine, 1934; Their Eyes Were Watching God, 1937; Moses, Man of the Mountain, 1939; and Seraph on the Suwanee, 1948); two books of folklore (Mules and Men, 1935, and Tell My Horse, 1938); an autobiography (Dust Tracks on a Road, 1942); an international bestselling nonfiction work (Barracoon: The Story of the Last "Black Cargo," 2018); and over fifty short stories, essays, and plays. She attended Howard University, Barnard College, and Columbia University and was a graduate of Barnard College in 1928. She was born on January 7, 1891, in Notasulga, Alabama, and grew up in Eatonville, Florida.
Ibram X. Kendi is a National Book Award-winning and #1 New York Times bestselling author. His books include Antiracist Baby; Goodnight Racism; How to Be an Antiracist; and How to Raise an Antiracist. Kendi is the Andrew W. Mellon Professor in the Humanities at Boston University and the director of the BU Center for Antiracist Research. In 2020, Time magazine named Kendi one of the 100 most influential people in the world. He has also been awarded a 2021 MacArthur Fellowship.
Loveis Wise is an illustrator and designer from Washington, DC. They are currently based in Los Angeles, and their work often speaks to themes of joy and liberation. Loveis has illustrated two books: The People Remember and Ablaze with Color. More of their work can be found through the New Yorker, Google, Adobe, and the New York Times.