---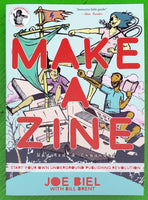 by Joe Biel
Microcosm Publishing
3/8/2022, paperback
SKU: 9781648411564
The fourth edition of this incredibly useful guide on how to makes zines, especially in the Digital Age.
In this new edition of Microcosm's popular DIY guide to zine-making, Joe Biel updates the information provided in the first edition (edited by Biel and the late and great Bill Brent) to address zine making in today's digital and social-media-obsessed world. Covering all the bases for beginners, Make a Zine! hits on more advanced topics like Creative Commons licenses, legality, and sustainability.
Says Feminist Review, Make a Zine! is an inspiring, easy, and digestible read for anyone, whether you're already immersed in a cut-and-paste world, a graphic designer with a penchant for radical thought, or a newbie trying to find the best way to make yourself and your ideas known.
Illustrated by an army of notable and soon-to-be-notable artists and cartoonists, Make a Zine! also takes a look at the burgeoning indie comix scene, with a solid and comprehensive chapter by punk illustrator Fly ( Slug and Lettuce, Peops). Part history lesson, part how-to guide, Make a Zine! is a call to arms, an ecstatic, positive rally cry in the face of TV show book clubs and bestsellers by celebrity chefs. As says Biel in the book's intro, Let's go!
About the Author:
Joe Biel is a self-made publisher and filmmaker who draws origins, inspiration, and methods from punk rock. He is the founder/manager of Microcosm Publishing and co-founder of the Portland Zine Symposium. He tours with his films on the Dinner and Bikes program and has been featured in Time Magazine, Publisher's Weekly, Utne Reader, Portland Mercury, Oregonian, Broken Pencil, Readymade, Punk Planet, Profane Existence, Spectator (Japan), G33K (Korea), and Maximum Rocknroll. He is the author of Good Trouble: Building a Successful Life & Business on the Spectrum, Manspressions: Decoding Men's Behavior, The CIA Makes Science Fiction Unexciting, Beyond the Music, Bamboozled, Bipedal, By Pedal, and more. He is the director of the documentaries Aftermass: Bicycling in a Post-Critical Mass Portland, If It Ain't Cheap, It Ain't Punk, Of Dice & Men, $100 & A T-Shirt, and the Groundswell film series. The Journal of Adolescent & Adult Literacy described Biel as not trained in pedagogy. His work can be found at joebiel.net