---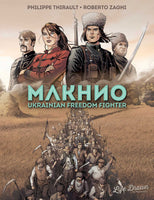 by Philippe Thirault and Roberto Zaghi
Life Drawn
3/22/2022, paperback
SKU: 9781643379692
The spellbinding true story of the infamous Ukrainian anarchist and revolutionary. 
In early 20th century Ukraine, anarchist Nestor Makhno, the son of peasants, was among the most heroic and colorful figures of the Russian Revolution, encouraging his people to find and embrace social and economic self-determination. This is his story, of a military strategist who tirelessly defied both the Bolsheviks and the Germans to protect his homeland.
In support of the people of Ukraine, a portion of the proceeds from this book will be donated directly to Ukrainian relief efforts by the publisher.
About the Contributors:
Philippe Thirault is a French novelist and comics writer who was born in Paris in 1967. In the late 1990s, he published the novel Feathered Serpent, the trilogy Hemoglobin Blues, and his first comic series, the critically acclaimed Miss: Better Living Through Crime. He has since become a very prolific comic book creator, writing series such as Thousand Faces, The Hounds of Hell, Balkans Arena and Mandalay. He often writes stories with a historical or fantastic setting and runs writing workshops in Paris.
Roberto Zaghi began working as a cartoonist in the 90s, for the Sergio Bonelli publishing house. Over the years he has illustrated issues of various genres for the series Zona X, Nathan Never, Legs Weaver, Orfani and Julia--the latter having met with great success in Italy.