---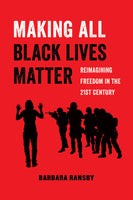 by Barbara Ransby
University of California Press
8/08/2018, paperback
SKU: 9780520292710
In the wake of the murder of unarmed teenager Trayvon Martin in 2012 and the exoneration of his killer, three black women activists launched a hashtag and social-media platform, Black Lives Matter, which would become the rubric for a larger movement. To many, especially those in the media, Black Lives Matter appeared to burst onto the national political landscape out of thin air. But as Barbara Ransby shows in Making All Black Lives Matter, the movement has roots in prison abolition, anti-police violence, black youth movements, and radical mobilizations across the country dating back at least a decade. Ransby interviewed more than a dozen of the movement's principal organizers and activists, and she provides a detailed review of its extensive coverage in mainstream and social media. Making All Black Lives Matter offers one of the first overviews of Black Lives Matter and explores the challenges and possible future for this growing and influential movement.
Number 6 in the University of California Press series American Studies Now: Critical Histories of the Present.
About the Author:
Barbara Ransby is a historian, author, and longtime activist. She is the author of the acclaimed biography Ella Baker and the Black Freedom Movement. Ransby was one of the founders of African American Women in Defense of Ourselves in 1991 and the Black Radical Congress in 1998. She is the editor of the journal Souls: A Critical Journal of Black Politics, Culture and Society, and Professor and Director of the Social Justice Initiative at the University of Illinois at Chicago.