---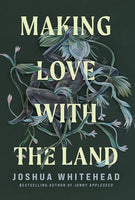 by Joshua Whitehead
University of Minnesota Press
11/15/2022, hardcover
SKU: 9781517914479
A moving and deeply personal excavation of Indigenous beauty and passion in a suffering world
The novel Jonny Appleseed established Joshua Whitehead as one of the most exciting and important new literary voices on Turtle Island, winning both a Lambda Literary Award and Canada Reads 2021. In Making Love with the Land, his first nonfiction book, Whitehead explores the relationships between body, language, and land through creative essay, memoir, and confession.
In prose that is evocative and sensual, unabashedly queer and visceral, raw and autobiographical, Whitehead writes of an Indigenous body in pain, coping with trauma. Deeply rooted within, he reaches across the anguish to create a new form of storytelling he calls "biostory" -- beyond genre, and entirely sovereign. Through this narrative perspective, Making Love with the Land recasts mental health struggles and our complex emotional landscapes from a nefarious parasite on his (and our) well-being to kin, even a relation, no matter what difficulties they present to us. Whitehead ruminates on loss and pain without shame or ridicule but rather highlights waypoints for personal transformation. Written in the aftermath of heartbreak, before and during the pandemic, Making Love with the Land illuminates this present moment in which both Indigenous and non-Indigenous people are rediscovering old ways and creating new ones about connection with and responsibility toward each other and the land.
Intellectually audacious and emotionally compelling, Whitehead shares his devotion to the world in which we live and brilliantly -- even joyfully -- maps his experience on the land that has shaped stories, histories, and bodies from time immemorial.
Reviews:
"Joshua Whitehead's Making Love with the Land is defiantly artful. The essays are alert to so much of the beauty and the terror of the world. I imagine they cost a great deal to write. While reading, I was entirely overcome with gratitude. How lucky we all are to witness Whitehead's kinetic thinking as well to be in pain with him. A truly dazzling feat of heart, analysis, and sentence-making." -- Billy-Ray Belcourt, author of This Wound Is a World and A History of My Brief Body
"In his latest 'wonderwork, ' Joshua Whitehead continues his signature and significant mission to undo colonial notions of genre, pushing the boundaries of memoir and cultural commentary into a wholly new, otherworldly terrain. Here, he makes love with body, kin, queerness, and music, demonstrating how making love isn't just an act of pleasure, but also one of grief, pain, and sometimes even solitude. A voice to listen to, learn from, cherish." -- Vivek Shraya, author of People Change and I'm Afraid of Men
"In this essay collection, Joshua Whitehead pushes at the possibilities of form, and the results are consistently a mix of the revelatory and the sublime. A chiaroscuro of self-questioning directed inward as a way to go outward -- affectionate, resolute, playful, and wise. Brilliant lessons learned are on offer here, but more as an invitation to re-experience what you might not know you know." -- Alexander Chee, author of How to Write an Autobiographical Novel: Essays
"An elegiac and elegant book of revelations, confessions, and reverberations." -- Kirkus Reviews
About the Author:
Joshua Whitehead is an Oji-nêhiyaw, Two-Spirit member of Peguis First Nation (Treaty 1). He is author of the award-winning novel Jonny Appleseed and the poetry collection full-metal indigiqueer, and he is editor of Love after the End. He is assistant professor in the departments of English and international Indigenous studies at the University of Calgary.