---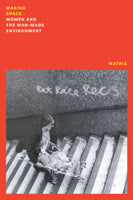 by Matrix
Verso Books
3/8/2022, paperback
SKU: 9781839765711
Timely re-issue of the groundbreaking manifesto for feminist architecture
Making Space is a pioneering work first published in 1984 which challenges us to look at how the built environment impacts on women's lives. It exposes the sexist assumptions on gender and sexuality that have a fundamental impact on the way buildings are designed and our cities are planned.
Written collaboratively by the feminist collective Matrix, the book provides a full blown critique of the patriarchal built environment both in the home and in public space, and outline alternative forms of practice that are still relevant today. Making Space remains a path breaking book pointing to possibilities of a feminist future.
Some authors worked for the London-based Matrix Feminist Architect's collective, an architectural practice set up in 1980 seeking to establish a feminist approach to design. They worked on design projects--such as community, children and women's centres. Others were engaged in building work, teaching and research.
The new edition comes with a new introduction examining the context, process and legacy of Making Space written by leading feminists in architecture.
About the Authors:
Matrix Feminist Design Co-operative was set up in 1980 as an architectural practice and a book group that grew out of the Feminist Design Collective. hey were one of the first architectural groups in Britain to take an overtly feminist stance in their way of working and designing, and in the projects they took on.

The practice was run as a workers' co-operative with a non-hierarchical management structure and collaborative working. Matrix worked in two main areas, design projects that were all publicly funded social projects and technical advice. Secondly, developing participatory design methods, acknowledging that architects' ways of working needed to be adapted in order to make the design process more understandable and engaging for clients and users.

Although there were as many as twenty members of the collective, initial members include Frances Bradshaw, Susan Francis, Barbara McFarlane, Anne Thorne, Julia Dwyer, Jos Boys and Benedicte Foo.