---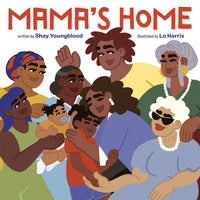 by Shay Youngblood, illustrated by Lo Harris
Make Me a World
10/18/2022, hardcover
SKU: 9780593180228
A gorgeously illustrated picture book that is a powerful love letter to chosen families and the village that raises us. A young girls basks in the love of her community--which includes not only her mother but the many different women who make up her world.
Home can be a blue house with white trim you share with your mama. But it can be bigger than that, with lots of Big Mamas to take care of you when your mom works--different houses for every day of the week. Mondays mean Nurse Louella and bike riding. Tuesdays mean eating fufu with your fingers with Miss Zikora. And Wednesdays... well, no matter where you are, as long as you are with your Big Mamas, you are home.
A girl basks in the warmth of her community in this powerful love letter to chosen families and the villages that raise us, from Pushcart Prize-winning author Shay Youngblood and popular illustrator Lo Harris.
Target age: 4 to 8
Reviews:
"A joyful, heartfelt celebration of family--born and chosen--and community, of Black womanhood and expressions of love." -- Kirkus Reviews
About the Contributors:
Shay Youngblood is the Georgia-born author of the novels Black Girl in Paris and Soul Kiss and a collection of short fiction, The Big Mama Stories. Her plays have been widely produced. She is the recipient of numerous grants and awards including a Pushcart Prize for fiction. She received her MFA in Creative Writing from Brown University and has taught Creative Writing at NYU. She currently lives in Atlanta.
Lo Harris is an illustrator and motion designer based in Brooklyn, New York. She grew up in Bessemer, Alabama and, from the time her family had a computer, she would spend hours on Microsoft Paint. She currently works as an Associate Animator at NBC News Digital, and has previously done work for The New York Times, Bustle and The Chicago Reporter. Lo seeks to creates work that empowers women through celebrations of self-love, self-compassion and sisterhood.